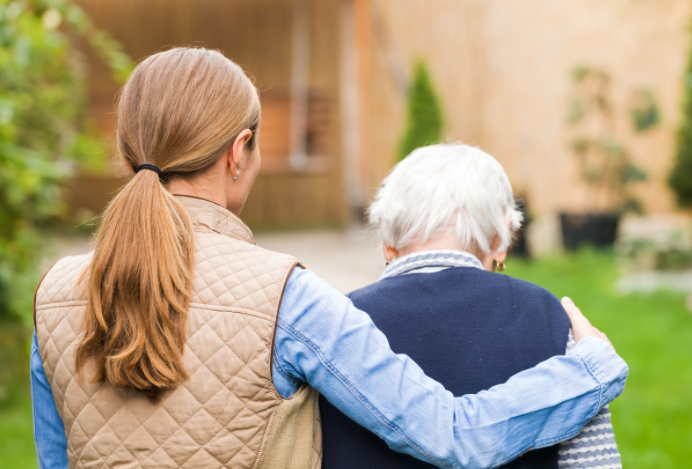 January 4, 2021
Holiday Reflections—Support for Loved Ones with Dementia in the New Year
With 2020 now in the rear view mirror, the added hustle and bustle of the holidays behind us, and considering this past year has been one of the most challenging years on record, ideally we'll have more time to focus on our loved ones struggling with neurocognitive disorders and memory challenges.
Every year ends with a series of holidays, both secular and religious. And, as we've all just experienced this past month, it's a time of gratitude and giving and an opportunity to focus on supporting those in need in our communities.
It's also a time when many families celebrate one or more holiday traditions and while these traditions bring us great joy, they can also be a mixed blessing. We enjoy the good feelings and warm wishes of the holiday season. We enjoy seeing our family members who we've missed interacting with for a long while. We look forward to gathering with new and old friends. At the same time, our traditions can be accompanied by stress— like hosting family and friends, decorating, cooking, cleaning, preparing for guests, and caring for our loved ones. For over a decade, at Hitchman Fiduciaries we've seen first-hand how this time of year can bring unexpected stress, especially for those living with memory losses.
Many adult children, who return home to see their aging parent(s) after a long absence, are surprised by what seems a sudden loss of memory and mental capacity. Family members, visiting a sibling who may be caring for their parent with Cognitive impairment, often express shock and levy criticism after they've been uninvolved for years. Visitors are unprepared for the extent of Cognitive impairment and tend to "badger" loved ones with quips like "Don't you remember?" All of this adds stress on top of the other stresses that's typical during the holiday season.
This year will long be remembered as the year of COVID-19. But as the New Year unfolds, and even with the vaccine offering much hope, it's difficult to predict how long social distancing will need to continue. As cases worldwide continue to rise, governments and the private sector call for smaller social gatherings, which is actually a blessing for those struggling with cognitive and memory issues.
As much as we may have wanted to host large gatherings this holiday season, our loved ones with Cognitive impairment actually do much better in small gatherings. Large groups can trigger agitation and feelings of being overwhelmed by the commotion and the crowd. This year, if you had a "Charlie Brown Christmas" so to speak— or a simple holiday season—this was actually a huge relief for some of our memory-challenged, loved ones.
Stimulating, Holiday and Non-holiday Activities
Without large crowds and out-of-town visitors to manage, ideally you had more time to spend with your loved ones this past holiday season. We always recommend stimulating activities to engage the senses throughout the year, which can be fun and trigger fond memories at the same time. Sharing stories and photos of past family traditions can spark new and enduring memories that remain with us, long after others fade.
Looking through old photo albums tops our list, since thumbing through a book filled with memories is mentally stimulating and tactile. Not that long ago, and certainly throughout much of the adult lives of many who now suffer with Cognitive impairment, photo albums were how memories were preserved and stories passed down. We suggest making the effort to locate these albums and enjoy them with loved ones at your side. The chances are good they will be filled with photos of holidays and times past and this is a great way to keep conversation s current and in line with the times.
Baking and cooking are another great way to tap into memories. Both of these activities bring back smells that can trigger activities that people remember and feel comforted by and that were forged by traditions over many years.
Using Music to Stimulate Memories
Music is always good for tapping into long-term memory. We encourage you to play familiar songs that bring back memories with family—while looking at photos, baking or cooking—and suggest regularly planning this at various times each month. Music is almost always soothing and calming and triggers pleasant memories of times gone by.
We also recommend a playlist of no more than five to seven songs and just be prepared to adjust the songs to get them just right, each having their own special meaning to our loved ones. It can take some time to reach the "music memory," so when your loved one responds, feel free to sing along! Those afflicted with expressive speech loss can sometimes still sing words, as this is generated in a different part of the brain.
There are many ways to help your loved ones struggling with memory issues at holiday times and year-round. If we can support you with a potential need for a special needs trust or other memory-care strategies, please feel free to call on us at 949-200-9712 or email us at info@hitchmanfiduciaries.com. One of our experienced and compassionate team members will be reach out to you right away.
Author: Lee Ann Hitchman, CLPF/MBA and Licensed Professional Fiduciary